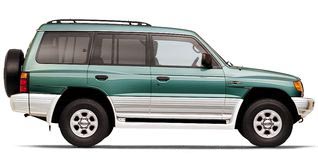 Mitsubishi Montero

Manifold Bushing Repair in 3.5L engine

(Click on pictures to view larger picture)

Mitsubishi in their infinite wisdom won't sell the bushings by themselves to repair the plenum. Certain year models had plastic bushings that wear out. Hopefully the pieces don't fall into the engine and damage the valves. I don't believe that happened to this engine. Without running a compression check, I won't know until the engine is back together. Mitsubishi wants $950 for a new plenum, complete with bushings. I think a machine shop can fabricate the bushings and rebuild the plenum for less than that.

Front of manifold plenum. Squirt starting fluid near here. If the RPMs increase the front bushing is leaking air.
I won't bore you with all the details. Just remove all the bolts and brackets.
Make sure you remove the bolt under the extension or the manifold won't come off.

Closer look at front bushing.

The plastic bushing wore out and the hole in the bracket that attaches to the vacumm is wallered out. I'm not sure how the machine shop will fix this.

This is the rear of the plenum, where the rear bushing should be.
View of the bottom of plenum and butterfly valves in open position.

Access plug in rear of plenum.

The injectors are beneath to the silver colored tubes that run along each manifold.
Stay tuned to see if I get the motor back together. Total time to remove plenum was 1 hr 15 minutes.
Home Page | Photo Album | Tim | Tara | Favorite Links
Email: Tim Constance
tconstance@usa.net
Date Last Modified: 9/14/98