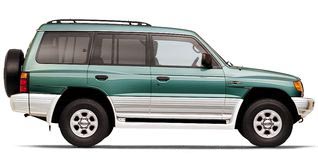 Mitsubishi Montero

Not just another pretty face

(Click on pictures to view larger picture)

At first glance, the Montero looks just another truck in the sea of SUV's on the market now. Those that use the Montero the way it was designed, know otherwise. The Montero has won numerous classess at the Paris-Dakar Road Rally - a race from Paris to Africa, through some of the toughest terrain possible.

South Padre Island, Texas '98, near Port Mansfield
My first 4x4 was a dearly loved Cherokee, ('92, moss green, 4 door, 4.0L, loaded, completely stock) that was great fun offroad and on the 4x4 beaches in Texas, until a Surburban on the wrong side of the road took it out. I wanted another Cherokee, but stumbled upon the Montero for about the same price. It was bigger and looked sturdier than the Jeep, so I went for it.
I've been extremely pleased. It goes anywhere, tows a horse trailer like an 8cyl truck, has a very capable 4wd system - including a locking rear axle, and once you get used to it , looks pretty cool.
If I told you this was Australia you'd believe me, right? This is South Padre Island Texas.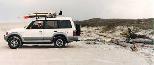 The Montero way to gather firewood. Hitch up to the biggest logs you can find, drop it in 4wd low, and drag them into a big pile at the campsite.

My Montero has mostly been offroad on 4wd beaches and the forests and creek bottoms around Houston, but I just returned from a trip to Big Bend National Park.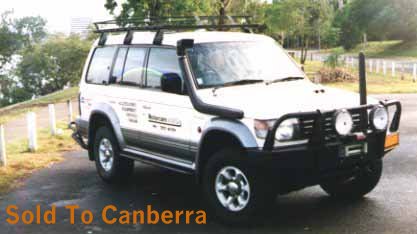 I'd like my Montero to look like this.
Montero Links:
Montero Stories:
Home Page | Photo Album | Tim | Tara | Favorite Links
Email: Tim Constance
tconstance@ev1.net
Date Last Modified: 9/14/98