---
Sometimes getting back is more funTim Constance
My daughter borrowed the Montero to take her friends canoeing. She called me on the cell phone from the bottom of a mud pit. You know how mud is, the ditch only had a little water in it, but the mud was bottomless. I rocked it back and forth and got it moving but couldn't get it out. Oh yeh, another thing - she parked behind a gate that was now locked and it was dark.

Scouted around and found a way to get the TJ a mile or so down the creek - so much for the gate. Strapped the Wrangler to it and on the third snap, jerked it out. I led the way back in the Montero since I knew the way. Got the Monty high centered and strapped it out again. The last obstacle was a climb up a sand/mud bank that was easy to get down - harder to get up. Nice thing about sand and mud is that you can get a running start. The approach was a straight away and then a sharp 90 up the hill. Now I realzed there was a big hump at the turn, that if you hit too hard you'd roll, too slow and not enough momentum to get up the hill. Took a few runs at it and only got 3/4 up. Took a few runs at it with the TJ and got up the second time, bounced it and dropped the front wheel into a washout - another foot or two and would have rolled it into the ditch. Strapped out the TJ and ran it up again. Ran the Montero up as far as it would go and strapped to the TJ again. Three big jerks later and we were all on top of the creek bank.

Usually the Montero saves the TJ, but this time the TJ had the right combination of weight, wheelbase and tires. I know it wasn't the driver, since I was driving both vehicles in the gnarly spots. I could have waited till the morning, but that wouldn't have been nearly as much fun. BTW, the mud flaps tore lose, but are held in by those square plastic anchors. Instead or tearing out, they just push back in. Now if I can just get all the grass and mud out of the undercarriage. I got a digital camera that very day, but didn't bring it since I didn't expect to have an adventure. Only got pictures of the aftermath. Sorry I didn't get action pictures, but this should give you an idea of what we were into....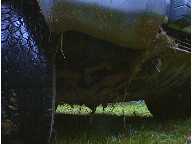 >