Costa Rica Trip August '98 Photos

Click on a picture for a larger view - Press "Back" on your browser to return to the album.

Please excuse the quality - most are from a cheapo disposable camera.
---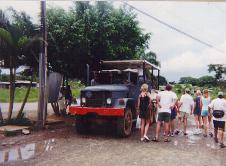 ..... Lambs to the slaughterIf you told all these yuppies they'd pay $65 apiece to be loaded into a cattle truck to bounce along a rutted mud road in the rain......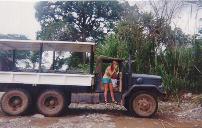 ..... Deuce and a half Our desired mode of transportation in the jungles of Costa Rica. '69 Army surplus AMC 6X6 wheel drive.
..... Rapids on the mighty NaranjoSome of the rapids, fringed by bamboo and tropical vegetation.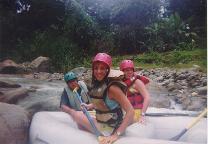 ..... Tara after a nice rapid.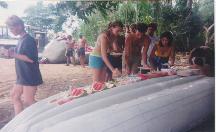 ..... Whitewater Lunch served on the bottom of a raft, cooked by one of the guides wife.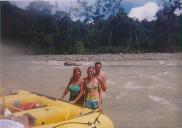 ..... Cyndi, Tara and Tim ready to get back in the water after lunch.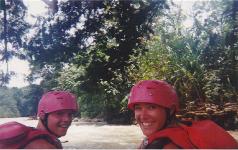 ..... Ryan and Kim Two people from our hotel that shared our raft.
..... CyndiHappy to be alive.

..... Sunset over Arenal lake from the base of the volcano.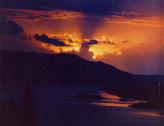 ..... Sunset over Aernal Lake Just couldn't get enough of the sunsets.

..... Typical Tico Moth Some of these buggers were big enough to eat.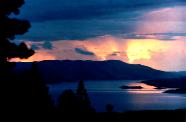 ..... Another sunset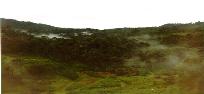 ..... Cloud ForestClouds were born as we watched.
..... View from Fred's CasaActive Arenal Volcano - as close as I wanted to be. This volcano killed 86 people twenty years ago.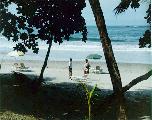 ..... Cyndi gets a beach chair Gotta get it just right so I can see the island on this side, the mountains on that side, the ocean, the monkeys.......
..... Crocodile Crossing Rough translation: Great Danger, No swimming, Crocodiles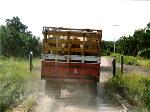 ..... Cows go to market in a Volvo One lane bridge, gravel road, livestock enjoying the view.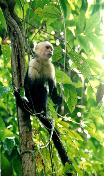 ..... White Throated Capuchian Monkey Lots of monkeys.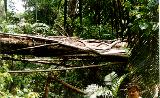 ..... Jungle was everywhere Manuel Antonio National Park
..... Beautiful Jungle Beach Jungle, green water, hermit crabs, monkeys, lava...
Home Page | Photo Album | Tim | Tara | Favorite Links
Tim Constance
tconstance@usa.net
Date Last Modified: 1/26/98