Big Bend National Park, Texas Click on pictures for larger view.
Big Bend.......It's hard to describe......
Old Ore Road is a high clearance road when dry and 4wd road when wet. It follows an old road used to haul ore to the railroad at Marathon. If you take the time to explore, there are old ranches, fossils, arroyos and other diversions to make the 27 mile road interesting.
The Dead Horse mountains flank the east side of the Old Ore Road. This picture was taken during the wild fires in Mexico and South America. The sky was a funny yellow color for weeks and visibility fell to two miles.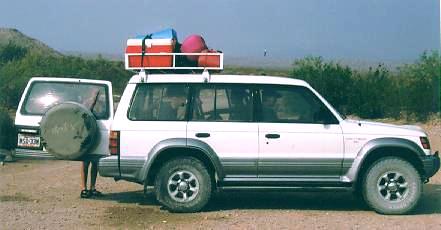 Our select mode of transportation in the back country is a Montero. Usually very rugged, we blew a brake hose on this trip and ran hundreds of miles on the emergency brake. I'm particulary proud of the roof rack - one of my early welding projects. All the equipment went on top and the interior was much more open.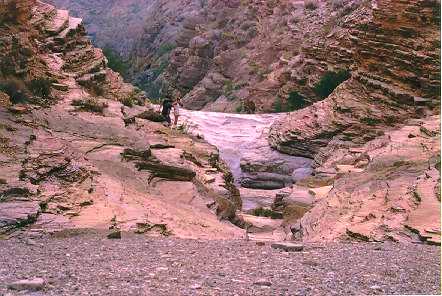 Ernst Tinaja was one of our favorite stops and campgrounds. From the campground you have no idea what lies up the dry creek bed. It looks like another little arroyo or dry wash. About one half mile up the wash, the walls begin to rise into a canyon. The rocks change color and texture. Fossils are everywhere. Here we're looking at a pool in the rocks that wildlife use for water. When it's low, the walls are too steep and smooth to climb out and mountian lions, javelinas and other animals have been found drowned in the pool.
One formation twists the rocks into a "Tinaja", Spanish for basket.
Early morning light is best for photography.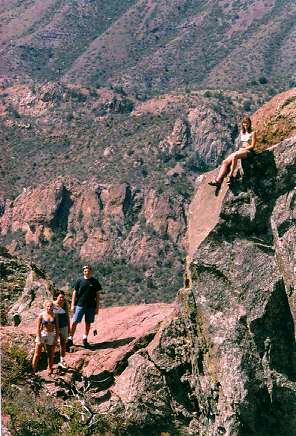 We hiked the Lost Mine Trail. Legend has it the Spaniards had a gold mine in these hills and killed all the Mexican workers when they left, to protect the location. We didn't find any gold, but did have fun rock climbing. Here's the gang at the end of the trail from left to right: Natalie Humphrey, Michelle Boren, Matt Humphrey and Tara Constance.
New roof rack I welded for this trip. Not a Con-Ferr, but lots cheaper and kept me out of trouble for a while.

Big Bend Links:

Home Page | Photo Album | Hobbies | Resumes | Horses for Sale | Tim | Cyndi | Tara | Favorite Links
Tim Constance
tconstance@usa.net
Date Last Modified: 1/26/98